The UK is one of the most unique and beautiful settings in the world. With rolling hills, sweeping vistas, chequered history and ruins tucked away around almost every corner, there is always something spectacular to see. This innate beauty is part of why the UK continues to attract the attention of filmmakers from all over the globe who use the country houses and unique landscape to their advantage.
At St James Hotel in Nottingham, we're lucky enough to have many of these tv and film locations on our doorstep in Nottinghamshire. However, whilst we know a lot about the local history of the city and its impact in popular culture, we understand that there are plenty of other great film and TV locations that people may want to visit. Here is a rundown of some of the most famous uses of the UK landscape in film and cinema.
The Dark Knight Rises – Nottingham, England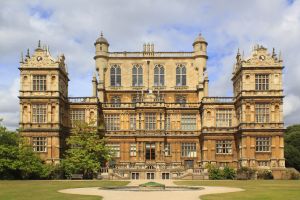 It's only right that we start with our hometown of Nottingham. The Dark Knight Rises is one of the most famous and popular Batman films of all time and for good reason. Alongside compelling characters and incredible cinematography, some of the settings and environments are instantly engaging and eye-catching.
One such location is Wollaton Hall, an Elizabethan country home dating back to the late 16th Century. Tucked away in acres of beautiful parkland, Wollaton Hall and the park that accompanies it was designated as a world heritage site over 50 years ago and was used as the set of Wayne Manor in the film.
With a host of indoor and outdoor events available, as well as easy transport links to Nottingham City Centre – where our array of stunning rooms are located – this is a great starting point for your exploration of the UK's film and TV heritage.
Harry Potter and the Philosopher's Stone– Northumberland, England
Harry Potter is one of the best-loved franchises that the world has ever seen. Millions of people are obsessed with the characters and world that J. K. Rowling created, with thousands touring the many filming locations used in the UK. Some iconic shots have been taken all across the British Isles, including the Scottish Highlands where the Hogwarts Express railway journey was filmed; however, there is one scene which many will remember clearly and want to visit – the broomstick practise.
Alnwick Castle in Northumberland, England was used as a backdrop for one of the most popular scenes in the first film, where Harry learns to ride a broomstick for the first time. With beautiful greenery surrounding the castle, alongside specific Harry Potter-themed events, this is an exceptional location with visiting for UK movie fans.
Notting Hill – London, England
Moving towards a slightly older film, Notting Hill, as expected, has many of its scenes shot in the English capital. London has been used for so many tv shows and films now that it would be impossible to name them all, with many opting for the same iconic landmarks featuring, including Tower Bridge, Big Ben and the Houses of Parliament.
Notting Hill is an exception in the sense that you get to see some of the city's less common attractions. One such sight is Kenwood House, a beautiful 17th Century property in Hamstead Heath that was once a stately home and now stands as an English Heritage site. The building's striking brilliant white façade is hard to forget from the films and with an art collection and quaint café on sight, this is a building which is more than worth a visit.
Game of Thrones – County Antrim and County Down, Northern Ireland
Largely considered one of the best tv shows in modern history, Game of Thrones spent eight seasons at the top of the world's watch list, assisted by exceptionally detailed source material, large budgets and stunning settings and environments. Many of those settings are thanks to the unique landscape offered by Northern Ireland, where many of the show's most iconic locations have been taken from.
Country Antrim and County Down host the majority of the most popular Game of Thrones filming locations, including the caves where Melisadre gave birth do a demon, the Free Cities where Varys was born, the site of the King's Road and Winterfell, and many more. If you're a fan of the series, even if you didn't enjoy the final season, some of the best places to visit are in Northern Ireland.
Monty Python and the Holy Grail – Stirling, Scotland
Built-in the 14th Century, Doune Castle is fairly small in area covered compared to many castles but has bags of charm and history. With a 100ft high gatehouse, stunningly well-maintained great hall and amazing silhouette against the Scottish countryside, Doune Castle is an incredible sight to enjoy just for its innate charm, let alone it's filming location pedigree.
However, there is an exceptional story about how Doune Castle was used for filming Monty Python and the Holy Grail. With a small budget that was made up primarily from celebrity investors, the cast of Monty Python was only permitted by the National Trust to use this singular heritage site for filming. As a result, the castle and the surrounding grounds were featured heavily throughout the film and there's a good chance you might find yourself in the very spot that your favourite stars from the film stood when delivering the classic lines we all recognise. You can even enjoy an audio tour delivered by Terry Jones of Monty Python fame, just to complete the experience.
Start Your Tour of the UK's TV and Film Locations Right
These locations are far from the only ones that the UK has to offer but there are some of the most varied and unique. If you are interested in exploring the locations behind your favourite pop-culture films, be sure to start with Nottingham. Boasting incredible transport links and a balance of attractions and facilities, the city has something for everyone.
Additionally, ensure you explore our beautiful boutique rooms at St James Hotel. Nestled in the city centre, we are perfectly placed for exploring the region and always have knowledgeable staff on hand to help you.
Learn more by getting in touch today or see what rooms we have available here.