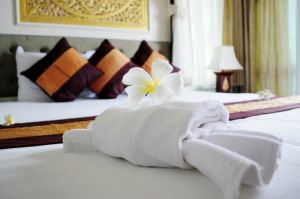 When travelling, it's easy to opt for traditional accommodation options with high-end luxury hotel chains providing little variation in the experience offered. However, there are other options available that are definitely worth considering. Over the past few years, boutique hotels have emerged as an alternative accommodation choice for travellers around the globe, but what makes a boutique hotel special?
In this quick guide, we are going to provide you with the essential information on what to expect when visiting a boutique hotel. We will also be exploring why travellers are starting to choose these quirky alternatives to traditional accommodation.
What Does Boutique Mean?
By definition, a boutique is intimate, fashionable, and sophisticated. Most notably, boutiques are quirky and memorable, often adding an artistic and stylish aspect to whatever they do.
In boutique hotels, this fashionable approach usually manifests in the form of quirky décor, eye-catching art, and unconventional design choices. This can often go right down to the fine details, from the choice of pillows on each bed to the names of the drinks on the bar menu. Boutique hotels are all about creating a very different atmosphere compared to conventional accommodation, capturing the imagination and ensuring each guest's experience is memorable.
It is thought that boutique hotels first popped up in stylish cities like London and New York in the early 1980s and they have only increased in popularity ever since. However, what features do boutique hotels tend to have and what makes them such a hit with modern travellers?
The Features of a Boutique Hotel
Boutique hotels specialise in creating bespoke spaces that amplify your accommodation experience. Whilst traditional hotels usually fall into common design trends and stick to the same features, boutique options are known for their unique characteristics and personality. Some boutiques can be loud and fun, others can be quiet and peaceful, but no two are the same. Here are some of the most noticeable features you would expect to find when you visit a boutique hotel.
Size
In order to offer that unique experience and memorable personality, boutique hotels are often small and intimate, sticking to a capacity of between 10 and 100 rooms. This is part of creating a private environment that amplifies the effect of the quirky décor and improves the overall visitor experience. The small and quaint approach of boutique accommodation is wildly different to larger chain hotels which often host hundreds of guests at a time. This change in size is a huge part of building the luxurious yet unusual atmosphere that boutique hotels are known for.
Design
Design is one of the most important elements of any boutique hotel. Most accommodation of this style is built upon creating a unique and quirky environment, which is heavily reliant on utilising interesting design choices and artwork. Often, large hotel brands tend to opt for a clean design that prioritises practicality and efficiency.
On the flip side, boutique hotels tend to be more personal and memorable. Think exciting patterns, quirky decor, and unique trinkets or curiosities that you don't see every day. This is also the reason why many boutique hotels are based in period buildings, adding to the unique charm that they have to offer guests. This variation in design often translates to individual rooms, too, much like our own room types here at St James Hotel. We have varying colour schemes and decor from room to room instead of opting for a single standard approach. This ensures that each room stands out and catches the eye.
Culture
Building on the point about design and period buildings, boutique hotels often have a distinct link with the area where they are based. These hotels tend to embrace the local culture and show it off more directly, whether that is through the menu, the décor, the staff, or simply the building itself. This addition of culture to the hotel environment can even include endorsing local celebrities and musicians as well as offering more personalised advice on local attractions to visit. These little details are a huge part of what makes boutique hotels so appealing for travellers looking to get genuine advice about the local area.
Personalised Service
This brings us onto the final major feature of most boutique hotels - the differing approach to service. Boutique hotels usually specialise in providing a bespoke service tailored to you, with knowledgeable and friendly staff on hand to help out. Again, the aim of boutique hotels is to create a unique and memorable experience, which starts with the staff who are the face of the hotel during your stay.
This is just a few of the reasons why boutique hotels are growing in popularity. As they do, more and more are appearing in cities around the globe.
Here at St James, we pride ourselves on being one of the most unique hotels in Nottingham, providing an unusual alternative to traditional accommodation choices. We offer our guests a choice of beautiful contemporary rooms, ranging from our crash pads to luxurious penthouse suites, making your stay with us as comfortable as possible. Discover more about our range of available rooms today, or get in touch and we'll gladly answer any questions you might have.