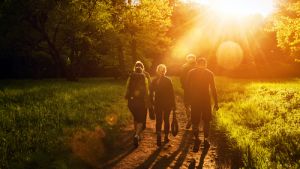 It's nothing out of the ordinary for something to be going on in Nottingham – after all, the city is the beating heart of the East Midlands with thousands of tourists visiting every year. Here at St James Hotel, we always look forward to summer because this is the season when our city truly comes alive with plentiful events taking place throughout the season.
Whether you are a local resident or a tourist booking a stay at our luxury Nottingham hotel this summer, we have listed some of the top local summer attractions that you can get involved in. With something for everyone, we can't wait to welcome you to our city!
Nottingham Beach – City By the Sea (13 July – 1 September)
You need not drive towards the coast to feel the sand between your toes as, once again, Nottingham Beach will be hosted at the Old Market Square all summer long. As well as family-friendly fun, there will also be a range of rides and food and drink available. Why not spend the day at the beach in the middle of the city?
Where is it? Old Market Square, Nottingham, NG1 2DR
Distance from St James Hotel – 0.8 miles (7-minute drive)
Nottingham Riverside Festival (2-4 August)
Labelled as the East Midlands' biggest free festival, Nottingham Riverside Festival takes place on the banks of the River Trent over the course of the weekend. With live music, a funfair, and dragon boat racing, you could almost be forgiven for forgetting about the amazing fireworks display taking place on Saturday night (3 August). This is a favourite for those local to Nottingham as well as anyone visiting our city, making for a fantastic mid-summer weekend with friends and family.
Where is it? Victoria Embankment, Nottingham, NG2 2JY
Distance from St James Hotel – 3 miles (13-minute drive)
Robin Hood Festival (5-11 August)
When you think of Nottingham, you think of Robin Hood. The two have gone hand-in-hand for centuries and, of course, the Robin Hood Festival takes place at none other than Sherwood Forest, the setting of the legend. 2019 marks the 35th year of the Robin Hood Festival, which will feature live re-enactments, singing, dancing, sword-fighting, plenty of food and drink, and Robin's favourite sport – archery – amongst others. There will be plenty to keep the kids entertained at the festival and with free entry (£6 parking per vehicle), you need no more reason to swing by over the course of the week.
Where is it? Sherwood Forest Country Park, Swinecote Road, Edwinstowe, Mansfield, Nottinghamshire, NG21 9HN
Distance from St James Hotel – 21.8 miles (47-minute drive)
East Woodstock (9-11 August)
Imagine attending a festival with the likes of AC/DC, Fleetwood Mac, Bruce Springsteen and Madness – a great fantasy line-up! While this may not be quite the real deal, at East Woodstock, you can watch some of the finest tribute acts from around the world perform your favourite songs from years gone by. This will be the third year of the festival, which this year will mark the 50th anniversary of Woodstock. Children under the age of 10 qualify for free entry when accompanied by an adult and there is camping onsite during the festival.
Where is it? MFN, Shipley Gate, Eastwood, Nottingham NG16 3JE
Distance from St James Hotel – 12 miles (30-minute drive)
Nottingham Food and Drink Festival (10-11 August)
If you are a fan of your food and drink (who isn't?) then Wollaton Park is the place to be on 10 and 11 August with celebrity chefs in attendance. The likes of Sean Wilson, Mark Lloyd and Jean Christophe Novelli will all be present at the festival, giving live cookery demonstrations alongside a host of other local chefs producing their own speciality recipes. As well as food fit for a king or queen, there will also be plenty of drinking stations (complete with wine tasting) and live music to add to the party atmosphere.
Where is it? Wollaton Park, Nottingham, NG8 2AE
Distance from St James Hotel – 3.3 miles (15-minute drive)
Magic of Thailand Festival (10-11 August)
This summer will see the Forest Recreation Ground transformed into Thailand (for a weekend at least) as visitors will be able to sample a slice of 'The Land of Smiles' without stepping foot on a plane. Throughout the two days, there will be lots happening, including live cooking demonstrations, Thai boxing demos, eating competitions, a Thai traditional costume parade and a beer garden. Advance adult tickets are £4 (rising to £5 on the day) with under-15s free.
Where is it? Forest Recreation Ground, Gregory Blvd, Nottinghamshire, Nottingham NG7 6LB
Distance from St James Hotel – 2 miles (10-minute drive)
Nottingham Carnival (18 August)
Sunday 18 August marks the return of the Nottingham Carnival that will feature no less than five music zones, a world cuisine food court, family amusements, and a parade. Entry for adults is £3 and £1 for children under 12 with toddlers getting in for free. The one-day event opens at 12pm and continues until 8pm. The parade is scheduled to begin at 2pm and can be watched for free along the route.
Where is it? Victoria Embankment, Nottingham, NG2 2JY
Distance from St James Hotel – 3 miles (13-minute drive)
Summer Nights Outdoor Film Screenings (22-26 August)
Why not take advantage of the long summer nights and enjoy a blockbuster movie outside at one of Nottingham's most beautiful heritage sites, Wollaton Park? From 22-26 August there will be five films screening at the venue:
A Star is Born – Thursday 22 August
Bohemian Rhapsody – Friday 23 August
Labyrinth – Saturday 24 August
Purple Rain – Sunday 25 August
Mamma Mia: Here We Go Again – Monday 26 August
Tickets are priced at £15.50 for adults and £10.50 for children under 12 and free for under-5s. All screenings will start approximately 30 minutes after sunset.
Where is it? Wollaton Hall & Deer Park, Wollaton, Nottingham, NG8 2AE
Distance from St James Hotel – 3.3 miles (15-minute drive)
Vegan Camp-Out (30 August – 1 September)
Heading into the dying embers of summer is the Vegan Camp-Out held at Newark Showground. Claiming to be 'the world's largest vegan camping festival', the event will be a weekend full of activism workshops, live music, food, talks, fitness classes and plenty of kids' activities. Adult tickets are priced at £45 and £25 for children (0-3-year-olds are free) with those attending free to camp, caravan, or come and go as they please.
Where is it? Newark Showground, Lincoln Rd, Coddington, Newark NG24 2NY
Distance from St James Hotel – 24.2 miles (42-minute drive)
Nottingham Green Festival (15 September)
Almost completely outside of the summer (but it's always nice to get in one last slice of summer before the autumn fully kicks in) is the Nottingham Green Festival taking place at the Arboretum. This event, open between 12-6pm, is in its 27th year and holds the mission of teaching the world about sustainable and environmentally friendly ethos. In 2018, an estimated 5,000 people attended the festival with more expected in 2019, where there will be live music playing across two solar-powered stages. The event has been 100% vegan since 2017.
Where is it? Arboretum, Waverley St, Nottingham NG7 4HF
Distance from St James Hotel – 1.1 miles (7-minute drive)