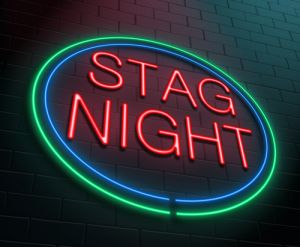 Although planning a wedding can be an incredibly stressful experience, there are certain things that you can do to limit the stress along the way. Of course, however, one of the most notable is the tradition of the stag do! It's the perfect excuse to get all the guys together to celebrate your upcoming nuptials with a few drinks. But despite this, it can often be difficult to decide where is best to go.
So, to make it easier, why not go on your stag in the same area that you will be getting married in? If your wedding venue is in Nottingham, then why not have your stag close by? That way, you will get to know the area and if it's a city, there will be plenty of places to go.
Of course, you will want your stag do to be fun and memorable, so don't just opt for a meal and a few drinks - do something different. If you're not sure what to do, we've put together a few ideas which may help.
Be Creative and Fun
First and foremost, you want to have a good time. It will be your last night out as an unmarried man so it's important to make the most of the occasion. Equally, if you are the best man charged with bringing the groom's freedom to an end with a bang, you cannot let him down! This has to be a night that the groom will never forget, or at least one that he wishes he could remember!
Let your creativity shine and consider activities that you haven't done before like paintball or an escape room. Yes, there will be drinking, but the best stag dos don't jump straight into the drink; you want to build up to a night on the town. This is a time for a group of friends to get together for what could be the last time, seeing their friend off as he sails into the ocean of marriage.
A stag do is just one big party - as it should be! Whether you decide to visit some of Nottingham's top party venues or try something a little different, the most important thing is to enjoy it! You only get one stag do, so make it count!
Friendly Competition
There isn't anything wrong with a little friendly competition, and if you and the guys are away for a stag weekend, you can incorporate a range of activities where you can compete either as teams or individually. As already mentioned, paintball is a stag favourite with good reason – it's a legalised way of inflicting pain on friends!
However, if this isn't your idea of a good weekend, then how about a round of mini golf or a day at the races? In fact, you might be interested to learn that Nottingham Racecourse is less than a 20-minute drive away from St James Hotel, making us the perfect stop off point should the races come calling!
Fine Dining
When evening arrives, you will need to consider where you want to eat. Why not look at going to dinner somewhere interesting, maybe somewhere that has live entertainment? Don't just go to the same old place - be adventurous and try something new.
If you really want to impress with a stag do in Nottingham to remember, we highly recommend joining us at our fantastic onsite restaurant the No/6 Bar & Lounge. As well as ensuring that there is something for even the fussiest of taste buds, our very own eatery includes a fully stocked bar. Whether you want to sit down with your favoured tipple, or are feeling adventurous, our professional bartenders and mixers can serve up almost any drink of choice. If it's not on the menu, we will see what we can do!
Drink Up
After you have eaten, the chances are that you will want to go out for a few drinks. In fact, you will almost certainly be hitting the town - it's a stag-do, after all! Check out the local clubs and bars and allow yourself to pick the ones which are best suited to your personal preferences. Don't forget the entertainment, either - nothing says fun like a few drinks and some live entertainment! Alternatively, you could always head back to the hotel and hit the bar.
Remember, whatever happens on a stag stays on a stag… unless it's too funny or embarrassing for the groom-to-be never to mention again! Have fun, but more importantly, stay safe and look after your mates. No one wants to be making awkward phone calls the morning after a heavy night trying to find out where Mark went after leaving the club in the early hours of the morning.
Head Back to the Hotel
When it gets late, you don't have to let the night stop there. Take the party back to the hotel and relax, unwinding with your friends after a night to remember. If you're lucky, you may even find a pool table or dartboard to play a few games. If you book in advance, you can save up to 10% on your room booking here at St James.
Our onsite cocktail bar stays open until late, so if it's a chilled out couple of drinks you fancy before retiring for the night, there's no better spot than No/6 Bar & Lounge. Equally, the restaurant will be open in the morning, ready and waiting to serve up a hearty breakfast to ease you into the next day as you recover from the night before.
When you combine all of these activities, you're bound to have the perfect template for a fun-filled stag do. All that's left to do is to get planning! If your wedding venue is in Nottingham, you can rest assured, safe in the knowledge that there is plenty you can do throughout the day. Simply do some research, pick out your favourite activities and invite the boys along for the ultimate stag do to remember!