Here at St. James Hotel, we believe that Nottingham is home to some of the most dynamic and fun-filled events in the country, and we promise to bring you regular dates to fill up your diary with via our news page!
Summer is nearly here, and Nottingham during the sunshine season becomes a haven to art, music and cultural events, showcasing some of the finest works in exhibitions and festival celebrations. Whether you are planning a romantic getaway or bringing the whole family, this month it's all about art and music! Here are some great ideas to keep you busy and enjoy what good old fun-time Nottingham has to offer!
Gathering of Creative People, 12th – 25th July 2014, Hopkinson Vintage, Antique and Arts Centre

10 artists from various backgrounds including painting, textiles, sculpture and photography come together in order to plan an exhibition of their collaborative works. All the artists live in various locations around the UK, and range from 17 – 55. This is a must-see exhibition for any creative and collaborative mind, and promises an affordable, unique and multi-talented show focusing on the 'strange webs we weave in our lives.' For more information please visit the Gathering of Creative People online.
Splendour Festival, 19th July 2014, Wollaton Park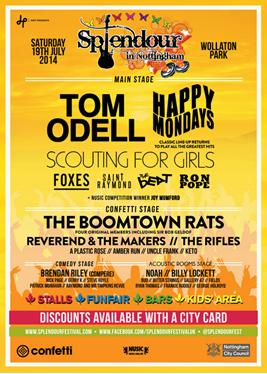 Festival season is upon us, and this year Splendour Fest is back with yet another fantastic line up! Splendour Festival is a fantastic day for all ages and every music lover amongst us, offering a little something for everyone. This year the amazing headline acts include Happy Mondays, Tom Odell and the legendary Boomtown Rats – with 4 original members including Sir Bob Geldof! This is not one to be missed, and with tickets priced at affordable costs – it's an absolute bargain! For further information please visit the Splendour Festival website.
Outdoor Theatre, 16th July – 30th August 2014, Nottingham Castle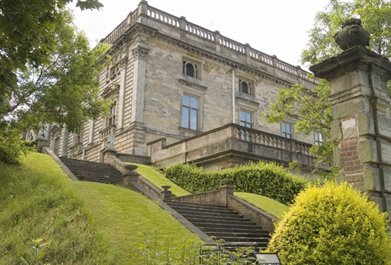 During the summer months, many of Nottinghamshire's best-loved attractions become home to a variety of theatre and outdoor performances. The Nottingham Castle will open its doors once again to host a series of artistic performances within its stunning grounds as part of the Outdoor Theatre Season. Just bring a picnic and a blanket and enjoy a range of Shakespeare, Sullivan operas and fun-filled children's shows in the picturesque setting of one of the most picturesque and historical settings.  A list of the Castles performances include:
The Pantaloons' History of Britain – Wednesday 16 July at 6.30pm
A Midsummer Night's Dream – Wednesday 23 and Thursday 24 July at 7pm
Twelfth Night – Saturday 26 July at 7pm
Peter Pan – Wednesday 6 August at 6.30pm
Much Ado About Nothing – Wednesday 20 August at 7pm
Macbeth – Saturday 23 & Sunday 24 August at 7pm
The Tempest – Thursday 28 August at 7pm
Robin Hood (traditional) – Saturday 30 August at 6.30pm
For more information please visit the Outdoor Theatre website.
Here at St. James Hotel, we dedicate ourselves to being the leader of boutique hotels in Nottingham, with designer décor and unique attractions including an art gallery and in-house stylish bar.  We are situated in the heart of the dynamic city of Nottingham making any destination a short distance. For further information please get in touch with our friendly team on 0115 941 00 14 or view our tempting offers and packages online!