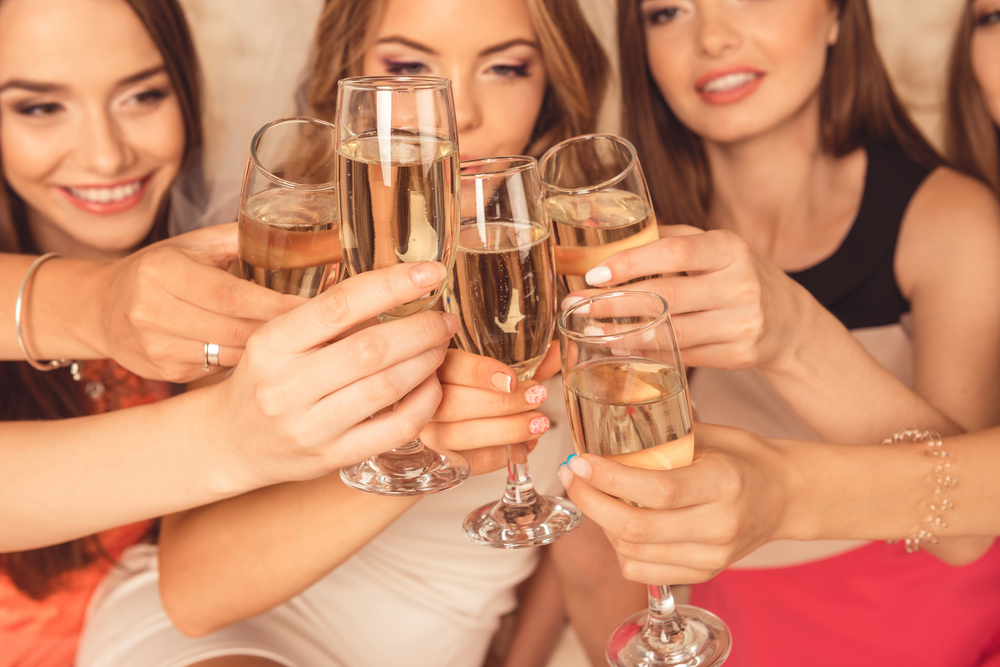 If you know someone who is getting married pretty soon, then it can only mean one thing: it's time to plan the hen party!
Planning a hen party can be a lot of fun or it could get really stressful – especially if you have a lot of guests to invite and bridesmaids to involve in the planning process. That is, of course, until you find the ideal venue to host the party at.
Here at St. James Hotel, we aim to help ease that stress by providing you with a top-class party venue in Nottingham.  You ladies will now have one less thing to worry about – what more could you ask for?
The Perfect Party Venue in Nottingham
St. James offers a variety of party venues for your night to remember; from big stylish ballrooms that can host up to 130 people banquet style, through to compact rooms, ideal for more intimate gatherings. Whatever your requirement, we do our utmost best to ensure all your guests have a great time.
Our in-house bar and lounge, No/ 6, serves exquisite food, snacks and cocktails to suit all your hen party needs. Depending on your party budget and requirements, we can cater from our restaurant for all of your guests and craft a bespoke hen party package for you. No/6 is also a great spot to head to for an after-party catch up and nightcap.
If you require any additional assistance with planning and getting your party started, our efficient staff will be more than happy to help you. Just let us know and we will be on hand, with an aim to give you a memorable experience.
Hen Party Entertainment in Nottingham
Once your venue is sorted, you can then focus on all the party arrangements. However, if you are struggling for entertainment ideas, then here are five simple, yet fun things you should consider:
Casino Hire
Always fancied a hen party in Vegas but your wallet doesn't quite agree? Don't be disheartened. Look into professional casino hire and celebrate in true Vegas style and make it a party to remember.
Karaoke Night
Give the ladies a chance to show off their singing skills and arrange a karaoke contest with all of the bride's favourite songs on the playlist.
Photo Booth Hire
It is a hen party, after all, so one thing is for sure, at least a few dozen selfies in a manner of all poses will be taken. Why not turn this into a fun activity? Arrange for a photo booth at the party with quirky and interesting hen party props. The ladies will love it!
Fancy Dress
This is a popular choice for hen parties. Opt for a theme and ask each guest to come dressed as a character or celebrity of their choice. You could also have a round of prizes for the best and worse-dressed guest to spice it up a bit more.
Tea Party
Afternoon tea parties are becoming increasingly popular with the ladies to celebrate an occasion with class and style. Bond over tea and sandwiches and recall all those lovely moments you shared. Warning, you might need a few tissues at the end of this one!
Here, at St James, we specialise in the traditional afternoon tea. Alongside a wide variety of exquisite sandwiches, we serve an impressive selection of treats including freshly baked scones, brownies and cakes. All this and more for just £12.95 per person. And, if you believe a hen party isn't complete without a bit of alcohol, worry not. Add a glass of Prosecco to your afternoon tea deal for just £5.
After-Party Accommodation
All the ladies love a sleepover, so why not turn your hen party into one? St James boasts 87 fully-furnished, beautifully designed bedrooms. Check into any of these luxurious rooms after the party and have the best sleepover experience ever; we also operate a  24-hour room service for those midnight munchie moments.
Book with us now and start planning the perfect hen party experience.