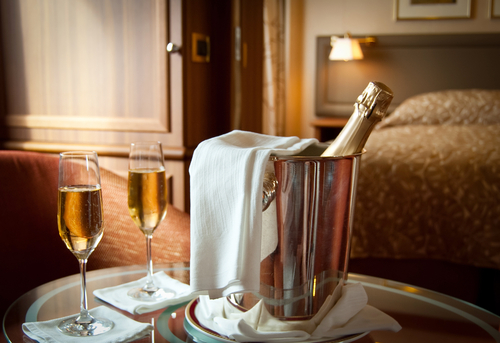 When it comes to luxury hotels, Nottingham is up there with the best of them and for those of you looking for something extra special – no matter what your reason for visiting – then St James Hotel could well be exactly what you are looking for.
If a luxurious and stylish sanctuary is the top of your list, then look no further. Situated in the heart of Nottingham city centre, our unique boutique hotel is perfect for those looking for an indulgent weekend away from a hectic schedule, a busy working weekend or a romantic getaway with a loved one.
We have a range of different options to suit all occasions – so, join us as we take a look at some of the luxury hotel facilities right here at St James Hotel Nottingham.
The Penthouse
The penthouse suite is something everyone should experience at least once in their life – and our exquisite penthouse is no exception. With every luxury afforded, our suite is sought after and opulent in nature, overlooking Nottingham Castle for a picturesque view of the city.
Featuring a huge Jacuzzi bath big enough for two, a private seating and dining area as well as a 19th century baby grand piano for a sense of grandeur, this penthouse has everything you need for a romantic night in or a few drinks with friends – complete with kitchenette to rustle up some cocktails and bar snacks.
The burr walnut flooring complements the antique furniture to give our guests a real glimpse into what luxury hotels Nottingham can offer.
The Four-Poster Room
Looking for something a little more intimate for a weekend away with your loved ones? Our beautiful Four Poster Room is just the ticket. Elegant and spacious, you can while away your time and sink into a sumptuous four-poster bed, complete with upholstered furniture throughout to really relax in style.
24-hour in-room dining is available – so if exploring the city isn't high on your agenda, you can relax with a private meal and a good book from the comfort of your hotel room!
Executive Rooms
As well as offering our guests the highly recommended luxurious suites, all of our executive rooms are designed to give our guests a night of luxury – complete with king size beds and additional seating areas to lounge around in. These rooms are perfect for those looking for home comforts while away for business or pleasure.
Luxury Hotel Facilities
If that wasn't enough, the hotel itself has a whole host of luxury facilities available for guests to take advantage of.  Free Wi-Fi and bottled water come as standard, along with all the usual housekeeping services you would expect. However, where we take it up a gear is in the smaller details – we have a shoeshine stand for guests to use, The Toning Room for guests looking to unwind after a long day and our No/6 bar and lounge has nooks and cranny's galore to enjoy a few drinks and a good book, or for a quiet bite to eat.
With so much to offer, it's no wonder our guests like to spend as much time in the hotel as they do the city! Want to know more? Give us a call today on 0115 941 1114 or contact us directly.