This September there are some exciting events going on in the city of Nottingham, so why not plan an overnight or weekend stay in our luxury boutique St James Hotel? Located in the city centre, you are right on the doorstep of the action so there's no fear of missing out, stay in our beautifully decorated Classic Rooms or treat yourself to a deluxe sleep in our lavish Executive Rooms.
Whether you stay with us overnight or stop by for a delicious drink in our No. 6 cocktail bar, it's all going down in Nottingham and you won't want to miss out.
Festival of Food and Drink, Clumber Park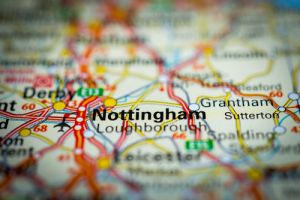 Held on the 15th and 16th September, the Festival of Food and Drink happens over in Clumber Park, a stunning National Trust owned country park located near to the town of Worksop. On the day, the park is filled with the mouth-watering aromas of food vendors from on-the-go Street Food to passing Pop-Ups and there will be a wide selection of bustling bars, quaint cafes and carefully crafted cocktail stands to quench your thirst.
With live music entertaining guests throughout the day, if you love food, consider yourself a drinks connoisseur or are looking for a great weekend out, drop by the Festival of Food and Drink in Nottingham this September.
Open Theatre Season
Taking place at both Wollaton Hall and Newstead Abbey, the Outdoor Theatre Season brings the best of outdoor performances to Nottingham. Sit back and enjoy some brilliant performances regaling tales of Shakespeare and Sherlock Homes, surrounded by the spectacular leafy and historic grounds.
Performances taking place at Newstead Abbey are geared more towards families with youngsters, while grown-ups will enjoy the endearing shows at Wollaton Hall.
Heritage Open Days
Possibly the largest festival taking place during September, the Heritage Open Days take place over two weekends this year, 6th to 9th September and the following weekend from 13th to the 16th.
Several historic and cultural locations will open their doors to their public for free, possibly for the first and last time this year, so jump on a tour and learn about some of Nottingham's prized sites. Some events have yet been announced but the full schedule of events in Nottingham and around the country can be found by visiting www.heritageopendays.org.uk.
Don't get stuck for things to do this September, join us for some culturally-rich events celebrating heritage and history in the city and then join us at the St James Hotel for a relaxing overnight stay or tasty drink in our cocktail bar. Nottingham has a host of activities and attractions, so even if you aren't around for these great events, the city is worth a visit.
Get in touch with our wonderful booking team for further information on availability or use our online booking form for the best available rates.