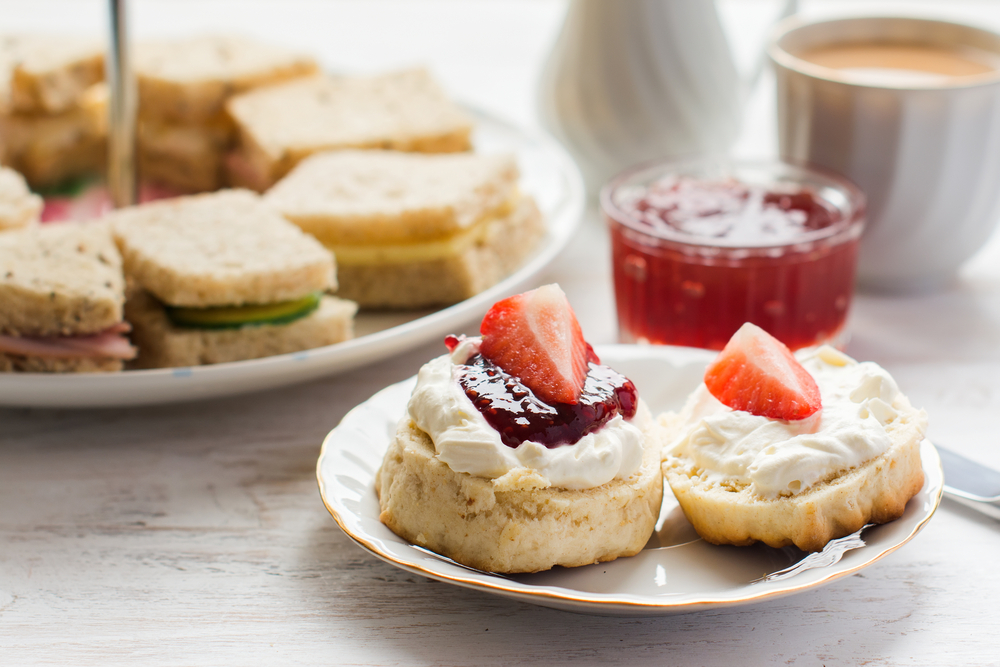 One of the best-loved British foodie traditions, the humble afternoon tea is an enduring favourite. Although its origins are unknown, it is thought that Anna, seventh Duchess of Bedford, invented the afternoon tea in the 1840s to stave off hunger pangs before dinner was served. Since then, the trend has gone from strength to strength, establishing itself as a very special part of British food history.
Have you ever had afternoon tea? If you fancy giving it a go, why not try afternoon tea in Nottingham right here with us at St James Hotel? Our bar and lounge restaurant, No/6, offers the perfect surroundings from which to sit back and relax with close friends and family, enjoying a delicious afternoon tea.
A Classic Favourite
Typically, the British afternoon tea is served between 3-5pm and will include tea (of course!) as well as delicious freshly baked scones with jam and clotted cream, freshly-baked cakes and finger food such as traditional sandwiches. However, the classic has been adapted and added to over time, allowing you to try special themed afternoon teas, seasonal treats and even children's menus to enable the little ones to join in on the fun!
Why not take some time out from the hectic rush of Christmas shopping and endless preparations to treat yourself? After a busy morning of shopping, relax with a delicious afternoon tea here with us and put your feet up, taking in your surroundings and making the most of the day.
Take Your Time
Arrange a meet up with loved ones or friends in the No/6 Bar and Lounge or even treat yourself to a cosy night of relaxation in our hotel. Nottingham is excellently served for transport links and offers incredible shopping opportunities, from big-name high street brands in the shopping centres to independent boutiques on the city's many shopping lanes. Pick up a bargain for yourself, treat a loved one to something unique and unusual or simply pick up some daily necessities.
While you're in the city, why not take in some of the wonderful culture? Explore the trails of legendary outlaw Robin Hood and his band of Merry Men, visit the striking Nottingham Castle (closed for redevelopment and renovations until 2020 but still visible!) or adventure beneath the city into the amazing network of unique sandstone caves.
Attending a Nottingham event, exhibition or festival? Stop by for an afternoon tea or drink in No/6, our lounge bar and restaurant in the heart of the city centre. Situated opposite Nottingham Castle, we are easy to get to whether on foot or via public transport.
An Afternoon Tea for You
Our afternoon tea features classic British favourites including fresh scones served with clotted cream and our delectable jam of the day, in addition to chocolate brownies, freshly baked meringue nests, delightful mini fruit tartlets and a mini Victoria sponge.
Your savoury option includes a selection of handmade traditional sandwiches filled with a choice of English cheddar and pickle, egg mayonnaise and cress, English ham and piccalilli and tuna mayonnaise with cucumber. Delicious!
Our afternoon tea is available between 10 am to 4 pm – book your table today for only £12.95 per person.
We also offer a Prosecco afternoon tea upgrade for those who are looking for a few bubbles to kick their afternoon off in style – can you resist?
Add a glass of Prosecco to your afternoon tea for only £5.
Our children's afternoon tea for under 12s includes a selection of fruit, chocolate brownie, yoghurt and crisps with a choice of English cheddar, egg mayonnaise, English ham, tuna mayonnaise, and strawberry jam sandwiches – plenty of choices to keep little tummies happy!
Book a children's afternoon tea for only £5 per child for under 12s.
An Afternoon Tea for Someone Special
Finding yourself stuck for Christmas, birthday or wedding present ideas? An afternoon tea experience is sure to make the perfect gift. Whether it is for parents, grandparents, a close friend or even a special treat for the whole family, an afternoon tea enjoyed in the surroundings of the beautiful city of Nottingham will make for the ideal way to celebrate the festive season or a special occasion this year.
After all, what do you get for people who are ridiculously difficult to buy for or the person who already has everything? The answer is simple – treat them to a delicious culinary experience! The memories that you make together are sure to be much more valuable than a material gift.
Treat Yourself to an Afternoon Tea in Nottingham Today!
Are you feeling peckish? Why not take the opportunity to relax and book yourself in for an indulgent afternoon tea in Nottingham at No/6, enjoying our top-class hospitality here at St James Hotel. Simply get in touch with our friendly team today to book your place.