Looking for a conference space or meeting room for hire in Nottingham? Here at St James Hotel, we have a choice of rooms to suit several layouts and group sizes, up to a maximum capacity of 180 individuals in a Reception-Buffet Style layout in The Oak Room. In addition, we can offer several different packages including Day Delegate and 24-Hour Delegate rates – each package can be customised to suit your business requirements.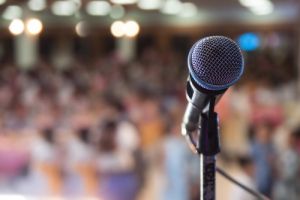 Not only for business, our rooms are suitable for ceremonies, celebrations or reunions. Whatever your event, we will go above and beyond your expectations to ensure you've got everything you could need and the service to match.
Why Choose St James Hotel?
When it comes to choosing a business or corporate location, St James Hotel is here to impress, with spectacular décor and amazing onsite facilities from our in-house No. 6 cocktail bar to the delicious meals we make onsite.
There are plenty of rooms to choose from for overnight accommodation, from the individually-suited Crash Pads for the single sleeper (boasting plush double beds) to our incredible Penthouse accommodation, complete with stunning baby grand piano in the room.
We are a proudly independent hotel, so you won't find anywhere like St James, with strikingly bold decoration from the library of over 500 books in No.6 to the amazing student art that covers our walls.
Surrounding Area
Another fantastic aspect of St James Hotel is the central city location. We have great travel links in and out of Nottingham and to the popular attractions around the area. Treat your guests to a night at the theatre or playhouse after your conference or pay a visit to some of the culturally rich heritage sites, such as Wollaton Hall and Newstead Abbey.
Conference Packages
When it comes to booking for your meeting or event, we can offer delegate packages to suit your requirements. Both packages include up to three servings of tea and coffee, a two-course buffet lunch, necessary equipment hire such as LCD projector, screens, flipcharts, relevant stationery and iced water, cordials and sweets to keep your guests satisfied. Add an overnight stay with our 24-hour delegate package.
The next time you need to book conference space or to organise a meeting room for hire in Nottingham, consider St James, our luxury boutique hotel. Whether it's for business or pleasure, our warm and friendly team are waiting to help you, give them a call on 0115 9411114 or email us at events@stjames-hotel.com.