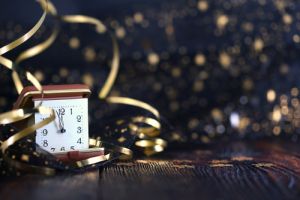 You may not even have started to think about Christmas yet, but if you are planning on seeing in the New Year in style it certainly isn't too early to book as availability is limited. Here at St James Hotel, we will be seeing in the New Year in a unique style as we host our own Peaky Blinders themed party at our Nottingham boutique hotel.
"This is a respectable event and we will all behave accordingly"
As part of our Winter Wonderland events taking place over the festive season, our New Year's Eve party is the hottest ticket in town. Guests are invited to arrive in typical 1920s attire (don't worry as there will be a prop box for those finishing touches) and enjoy a five-course meal, live jazz and, of course, cocktails.
The evening will begin from 7pm, with guests welcomed with a cocktail and canape reception before dinner is served at 8pm. As an extra incentive for guests to look the part, on the night there will be prizes for the best-dressed male and female.
Stay the Night at Our Nottingham Boutique Hotel
We completely understand if you want to continue the party long into the night, so if you do want to explore Nottingham's nightlife once the venue closes at 1.30am, don't forget to ensure that you have a comfortable bed to return to in the early hours of the morning. Rooms are available from just £98, meaning that you need not worry about finding your way home, as well as freshening yourself up and enjoying a spot of breakfast before departing.
At our fabulous boutique hotel in Nottingham, we have a wide range of rooms to suit all budgets. So, whether you want to indulge yourself with a stay in our Penthouse suite or are simply looking for somewhere to crash for the night, we can ensure that you enjoy a comfortable night's sleep.
Book Today
If this sounds like the perfect way to bid farewell to 2018 and welcome in 2019, we simply cannot stress how important it is to book as early as possible. We are expecting this event to be a sellout and would hate for you to miss out on the best New Year's Eve party in the city.
"Intelligence is a valuable thing" and with it, you will make sure to book your tickets today at St James Hotel. Get in touch with us to reserve your space and book a room at our boutique hotel in Nottingham for after the New Year's celebrations.