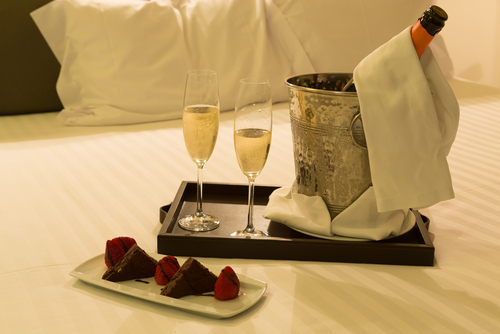 There's nothing quite as romantic as spontaneously whisking your other half away for a weekend just the two of you to spend some quality time together. Whether as a gift for a birthday, anniversary or even Christmas – or just a token of your appreciation and love – it is definitely up there as one of the things we would all love to be surprised with.
So, if you are looking for luxury hotels in Nottingham to surprise your significant other with a romantic getaway of your own, then look no further;  we give you three great reasons why St. James is the perfect hotel for you.
Our Fabulous Rooms
Here at St. James Hotel, we pride ourselves on our attention to detail when it comes to first impressions for our guests. Being a design-led boutique hotel comes across in our artistic approach to the different areas within our hotel; bold and quirky yet classy with an attentive flair for being elegant and unique.
Our beautifully furnished rooms are equipped with everything you could possibly need for your romantic getaway, and on the rare occasion where you feel something is missing, simply give our team a call and we will do our utmost best to fulfil your requests.
Our Four Poster Room is the perfect setting for a romantic weekend away. Even our beautiful, plush Penthouse  Suite which overlooks Nottingham Castle and boasts a huge Jacuzzi and a baby grand piano is up for grabs if you really want to dazzle your loved one.
Our Location
Aside from overlooking Nottingham Castle, we are on the doorstep of many a romantic attraction in the Nottingham area; from the magical Sherwood Forest (hiding place of the legendary Robin Hood) to planning a night out at the Theatre Royal to catching a romantic movie together at the Moonlight Drive-in Cinema, there are so many things to do in Nottingham that you really will be spoilt for choice.
Alternatively, if you wish for nothing more than a long, relaxing weekend in together, then be sure to make full use of our 24-hour in-room dining service along with our state of the art flat-screen TVs with Freeview channels in the comfort of your weekend hideyhole.
Our In-House Bar and Lounge
No/6 bar and lounge, our popular in-house bar, is a great place to take your loved one to experience some of the best cocktails that Nottingham has to offer. Boasting a luxury, elegant ambience along with that signature sophisticated class we are so well-known for, No/6 bar and lounge is the ideal place to relax and unwind with your loved one and even enjoy a delicious meal together.
So, as far as luxury hotels in Nottingham go, we are certainly up there with the very best. For more information on our superb hotel and what we can offer you, visit us online, or alternatively, if you happen to be in the area then just pop in to take a look around and say hello.
If you have any particular requests or queries, please give our friendly team a call on 0115 941 1114 today.