When you are celebrating in style with an overnight hotel stay, you are likely to be looking to stay in the best room available. Look no further than our Penthouse Suite, available in our luxury city centre hotel, with or without breakfast in Nottingham.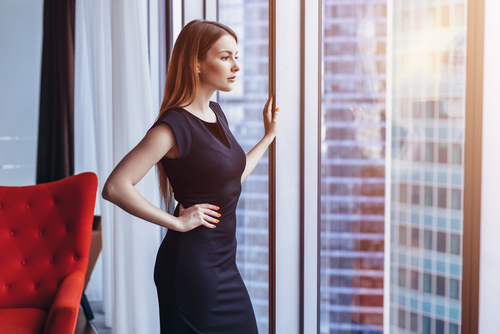 As you enter the room you are met with beautiful Burr Walnut flooring, coloured in deep brown shades that seem to swirl throughout the individual boards and complementary to the deep red walls of the dining area which radiate pure elegance. Sink into the deep, plush sofas while bathed in glorious natural light shining through the generous windows overlooking the incredible Nottingham Castle. Later in the day, settle down for a cosy evening in front of the Samsung LED television.
Furniture
Each piece of furniture in the Penthouse Suite is a true antique – enjoy a classic piece of history in style. For the musicians among our guests, we have set up a 19th-century baby grand piano within the suite. Not only does this offer a touch of musical sophistication, but there truly is no sound like that produced by a grand piano.
Bathroom
You'll be hard-pressed to find another bathroom like the one attached to the Penthouse Suite. Take a deep bath in our jacuzzi bathtub or sample the delights of a power rain shower – turn a simple shower into a luxurious spa-like experience. Rain showers are not only refreshing, but the drenching spray overhead offers a total-body experience.
We provide only the best complimentary toiletries available from The White Company, to ensure your bathroom experience is everything you expect.
Dining
The Penthouse Suite is not only for accommodation but is also available for private dining with the additional seating area available. Try some of our delicious meals as the sun sets over the dramatic Nottingham Castle or you could even host a small cocktail party with your nearest and dearest.
Alternatively, the Penthouse Suite features a kitchenette area including a microwave, sink and fridge. Should you have a lot of work to complete or simply want to enjoy the company of a loved one in private, there's no need to even leave the suite.
Bedroom
You can't have a luxury suite without a gorgeous bed to sink into after a hard day of travel and exploration! Our Hypnos Super King beds are created especially for a good sleep, so you can rest undisturbed through the night.
If you are looking for an elegant stay in true sophistication, look no further than the Penthouse Suite, available to book online or via our expert reservations team on 0115 941 11 14. Book to stay with us, room only or with breakfast in our Nottingham city centre hotel. Whatever the occasion, we look forward to hosting you.