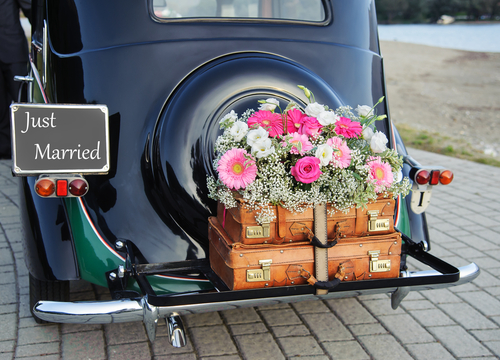 As we approach the end of 2017 to see in the year 2018, many couples are busy planning their big day for 2018 as well as Christmas, Valentines and all the other occasions in between.
Here at St. James Hotel, we like to keep in the know with all the latest wedding trends – as we are rated as one of the premier wedding venues in Nottingham, it is a topic we are passionate about, that's for sure. For those of you looking to get married in the coming New Year, here are three of the most popular wedding themes that will be big in the year ahead.
Vintage, Darling
The vintage look, it seems, has never quite left the wedding scene entirely. There is definitely something sophisticated and luxurious about the dusty mauve and pinks, indulgent creams, antique golds, blushing roses and ivory laced finishes that ooze opulence and class. Ornate ivory silk backdrops teamed with muted dusky tones and just the right level of foliage and rustic accents can really make a great vintage themed wedding perfect for many couples.
Romantic and Dreamy
The very reason you are getting married is love, right? So what better way to theme your wedding than with that very influence in mind?
Romantic weddings make up a majority of the very fairy tale that so many girls grow up dreaming of. Think shades of pink delicate crystal chandeliers, elaborate candles and extravagant floral centrepieces, ivy-lined floral archways, rose petals and of course, a stunning, pure white lace gown for the bride.
Minimalistic Chic
Whether you are planning a particular theme for your big day or something unique to you personally as a couple, weddings do not have to be lavishly over the top or cost the earth, they can be toned down to keep in line with the new minimalist trend, too.
You can enjoy all the benefits of a great wedding whilst still keeping things simple and tasteful – the important factor here is to ensure you add a little of your personality into the wedding; be it bold blooms, your choice of dessert or the entertainment you pick, the day itself needs to be something you would want to look back on 50 years later and smile, knowing it was one of the best days of your life.
St, James – The Ultimate Wedding Venue in Nottingham
If you are looking for wedding reception venues in Nottingham or nearby, then visit one of the leading, premier event venues in the area right here at St. James Hotel in Nottingham. Our event coordinators aim to stop at nothing to ensure your day goes as smoothly as you have always imagined and is as perfect as it could possibly be.
For more information on our wedding packages take a look at our wedding page here, your chosen package can be tailored around your needs and requirements to create a bespoke wedding package just for you. Call our dedicated events team today for more information, on 0115 941 1114 or visit us online, here.